Predefined Folders
This tutorial shows how to use predefined folders to quickly choose the target folder when performing some operation, e.g. conversion of designs, cut/copy and paste, open/merge/save design etc.
1 - Run Embird.
2 - Select designs which you want to convert (Picture No. 1).
1. Select designs to convert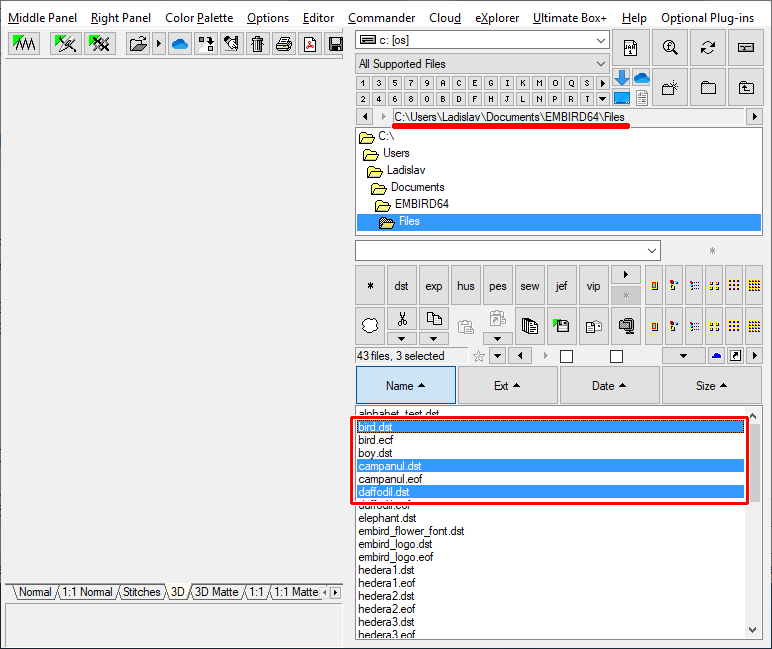 3 - Click "Right Panel > Convert Files" menu to convert selected designs (Picture No. 2).
2. Click "Right Panel > Convert Files" menu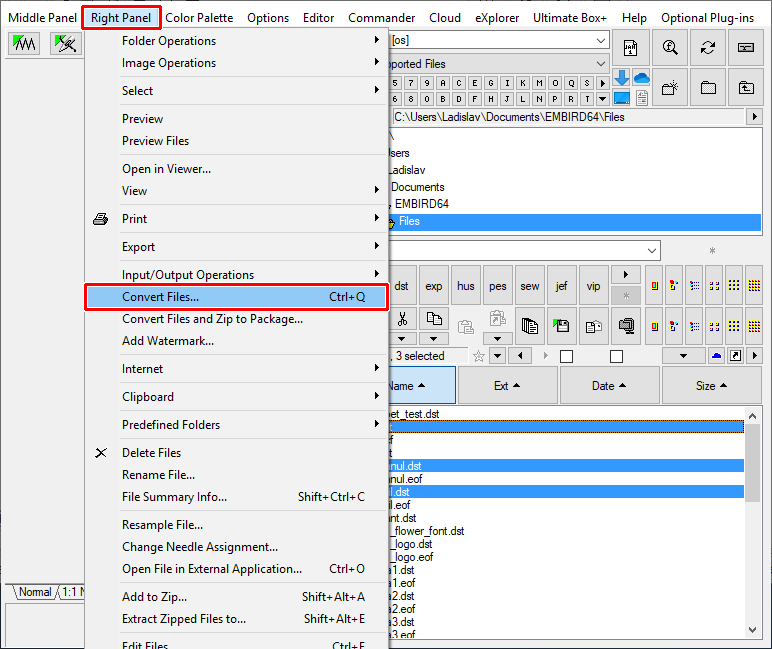 4 -The dialog with predefined folders will appear on the screen, allowing you to quickly select the target folder for new files (Picture No. 3). Alternatively, you can click "Skip" button and the new files will be created in the current folder (which is identical with source files folder).
Note 1: It is possible to switch off this dialog box by unchecking the box "Show this screen when opening/saving files" in the left bottom corner of the dialog.
Note 2: The various colors of some folders in Picture No. 3 are used to emphasize that these are special Cloud folders.
3. Choose the target folder from predefined list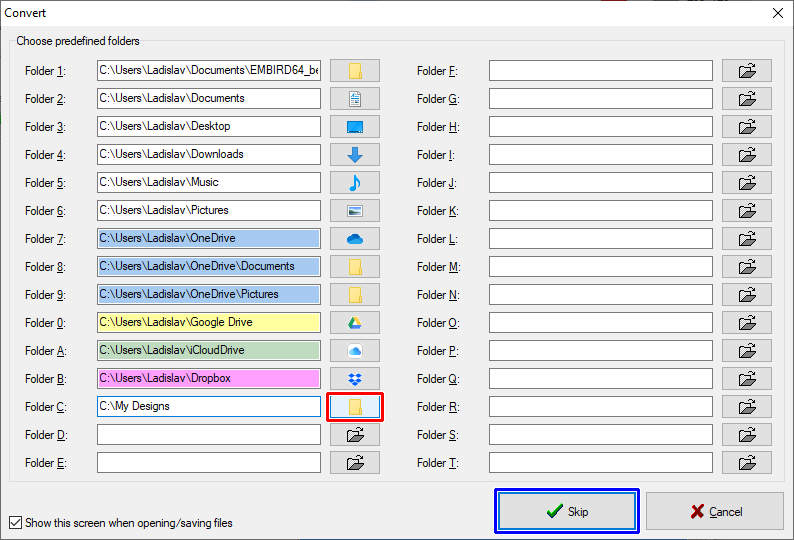 5 - Choose the target file format(s) (Picture No. 4).
4. Choose the target file format(s)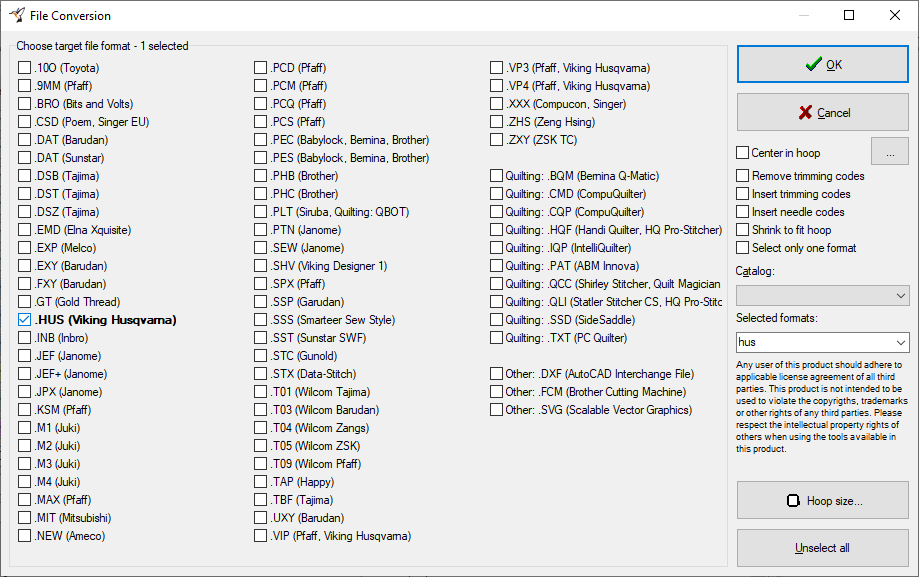 6 - The conversion process will start and last for a while. Once it is finished, the converted files will be stored in the chosen target folder ("C:\My Designs" in this example). The list of new files is shown (Picture No. 5).
Note 3: It is possible to quickly handle these new files - see various buttons in Picture No. 5.
Click "Explore" button to launch File Explorer and select new files in its list.
Click "Cloud" button to launch Cloud Explorer (or Embird File Commander with its left panel focused to Cloud folder).
Click "Commander" button to launch Embird File Commander.
Click "E-mail" button to start composing e-mail with new files in its attachment.
Click "Zip" button to zip new files.
Click "Clipboard" button to copy the full paths of new files to clipboard.
Click "Menu" button to show shell context menu with commands applicable to new files.
Click "Hide" button to switch off displaying of these extra buttons. (It is setting in "Options > Show > Show Extra Buttons" menu).
5. Conversion completed, handle new files

7 - Click "Selected Marked Files" button (1) to quickly select new files (2) for any further processing. (Picture No. 6).
Note 4: The concept of predefined folders is used also when performing other operations - for example, for "Cut" and "Copy" operations (3) it allows to choose the target folder for pasting files. For "Open" operation it allows to quickly choose the file source folder (4). For "Save" operation (in Editor) it allows to quickly choose the target folder, etc.
6. Quickly select the the new files for any further processing