Cloud Explorer
This tutorial explains how to use cloud storage in Embird.
Clouding is modern and very effective system of management, deployment and back up of the files which contain pictures, videos, texts, sounds and also embroidery designs. The principle of this service is possibility for the customer to save his files on the memory medium of the company which provides such service. Customer has possibility to access to these files from arbitrary place on all over the world with various hardware platforms (computers, in the future with the tablets and smartphones) and with various operation systems (Windows, in the future with the OS-X and Android. In the case of the recovery of the crashed computer these files are easy available for the customer. Such service is provided by the big companies which provide professional hardware support and protection of the customer?s files. Customer must have good access to the internet to use this service.
Customers with the Windows 8 and later versions have such service via SkyDrive (or newer name OneDrive).
Users of the previous Windows have possibility to use this service via various specialized single utilities and also via new Embird functions called Cloud Explorer. This service enables to use two cloud services:
You must first arrange the cloud service on the web sites of the company above (selection of the service is your decision). Both companies offer a free trial account for some period.
1 - Run Embird.
2 - Select the file which you want to upload to Cloud and then click &quotCloud&quot menu (Picture No. 1).
1. Select file and click Cloud menu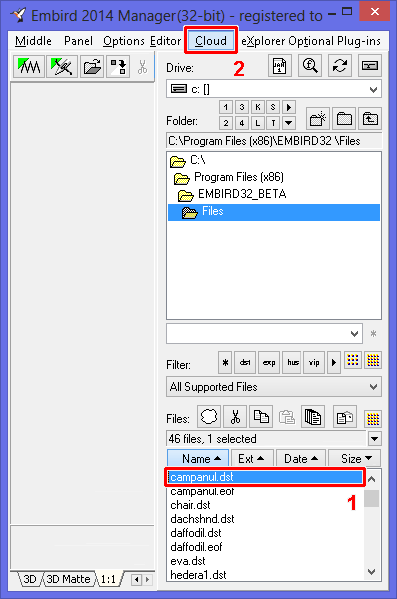 3 - Cloud Explorer window will appear on the screen. Selected design is focused at the left side of Cloud Explorer window. This is the side where local files and folders are shown (Picture No. 2).
2. Design is focused in Cloud Explorer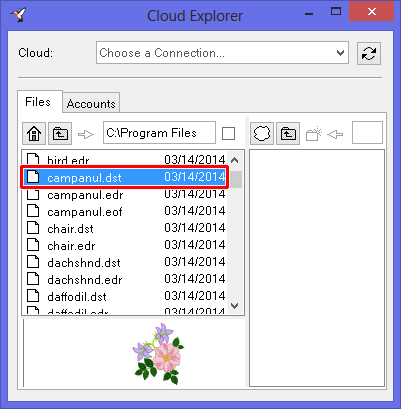 4 - Before you start using the cloud, you need to set up cloud service on the Accounts tab (Picture No. 3).
5 - Choose cloud service provider (either Amazon or Azure).
3. Select Cloud service provider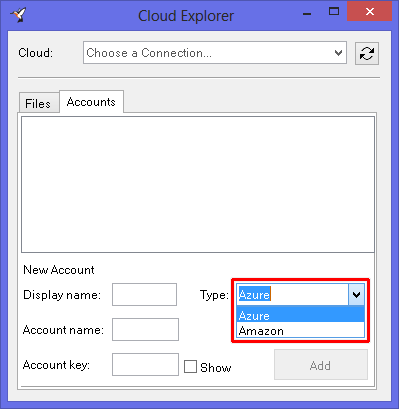 6 - Fill in Display name - choose any name which describes your cloud location.
7 - Enter Account name and Account key - you should receive both of them from cloud provider.
8 - Click &quotAdd&quot button to add the account (Picture No. 4).
4. Add cloud account in the Cloud Explorer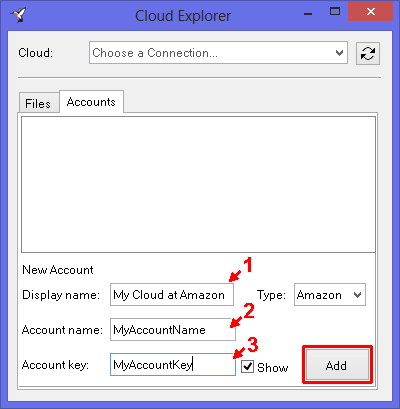 9 - Select Cloud which you want to access (Picture No. 5). The list of cloud root folders (also called Containters at Azure or Buckets at Amazon) will be shown at the right side of Cloud Explorer window. This is the side where cloud (remote) files and folders are shown.
5. Select Cloud which you want to access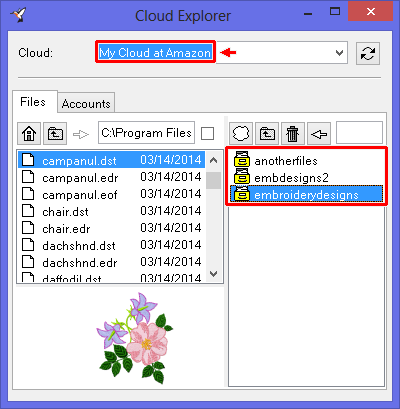 10 - Double click the Container or Bucket name in the list to enter it and see the list of the files it contains. You can also specify a path in the text field above the cloud files list to enter this Container or Bucket. Move mouse pointer to an item in files list box and click the right mouse button to create new Bucket or Container (Picture No. 6).
6. Create new container
11 - You can right click local files list to upload selected file to Cloud. (Picture No. 7).
7. Upload file to Cloud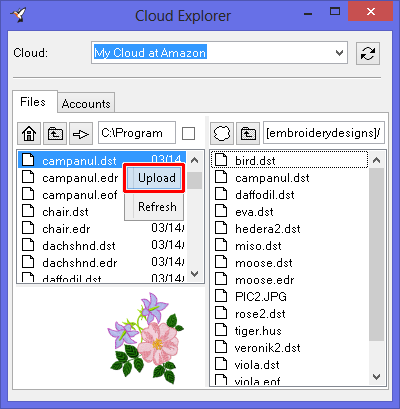 12 - You can right click cloud files list to download selected file from Cloud. Another way is to drag and drop file from right panel to left panel, or vice versa. There is also the button with arrow icon for downloading from Cloud (Picture No. 8).
8. Download file from Cloud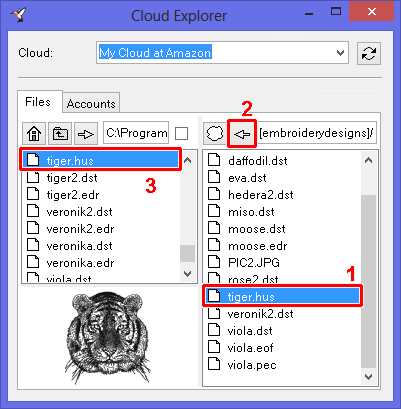 13 - You can quickly access Cloud also from Embird Editor - just save the design to a file and click the button with cloud icon (Picture No. 9).
9. Access Cloud from Editor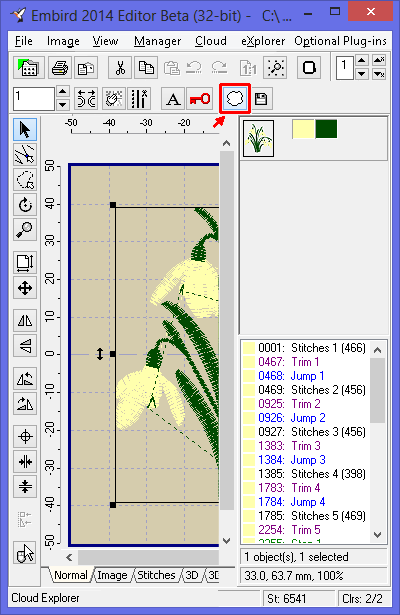 14 - Cloud Explorer window will appear on the screen and edited design is automatically focused (Picture No. 10).
10. Upload edited design to Cloud