Inserting Registration Password - Auto-Copy to Clipboard
This tutorial explains how to enter the
registration password

into Embird using special "Auto-Copy to Clipboard" command from Embird main menu.

Normally, you can insert the password from e-mail to Embird using standard Windows Clipboard functions ("Ctrl+C" to copy selected text from email to the Clipboard and "Ctrl+V" to paste the text from the Clipboard into "Embird > Help > Registration" dialog box - see more details in Inserting and Removing Embird?Password tutorial).

Another way of inserting passwords into Embird is to use the PASSWORD.KLC file attached to the e-mail which you receive from us after purchasing Embird registration - this is explained in Inserting Registration Password from PASSWORD.KLC file tutorial.

However, if you are not familiar with using Clipboard function, nor PASSWORD.KLC file, try to use the "Auto-Copy to Clipboard" command. Assuming you have paid for Embird registration and received an email with registration password from us, please follow these steps:

1 - Run Embird, it will start in "Manager" mode.

2 - Check whether your copy of Embird is "Unregistered" by reading the text in the bar at the top of Embird Manager window (Picture No. 1).

3 - In case you have an unregistered copy, select "Help > Auto-Copy To Clipboard" command from the main menu (Picture No. 1).

1. Unregistered copy, Select "Help > Auto-Copy To Clipboard"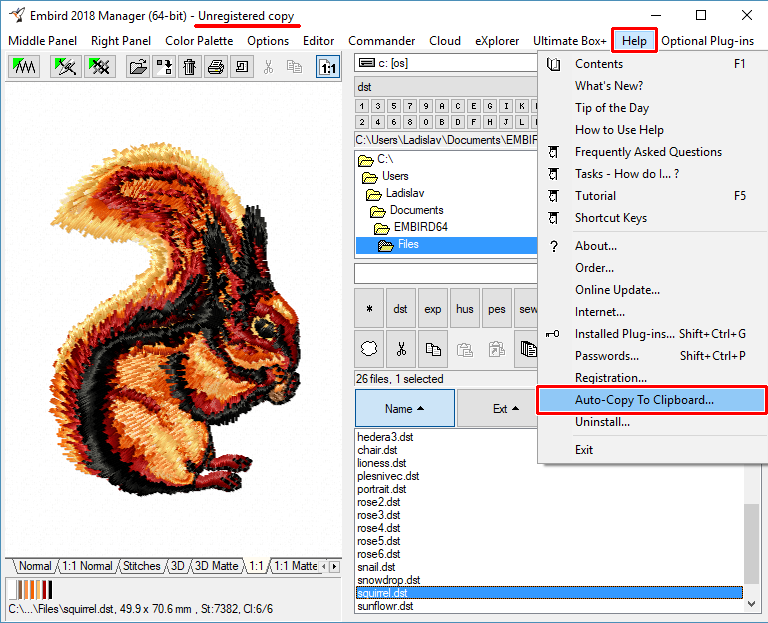 4 - Embird will display a dialog box with instructions (Picture No. 2).
2. Dialog box with instructions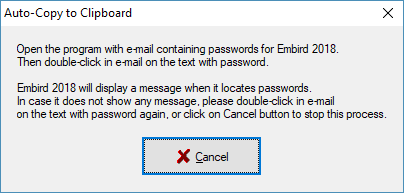 5 - Run your e-mail client software and open the e-mail with passwords which you have received from us after paying for Embird registration at https://www.embird.net/sw/embird/register.htm. Typically, you would receive two e-mails, containing different forms of password. Choose the e-mail without attachment, containing the text form of the password (Picture No. 3).
3. Embird password e-mail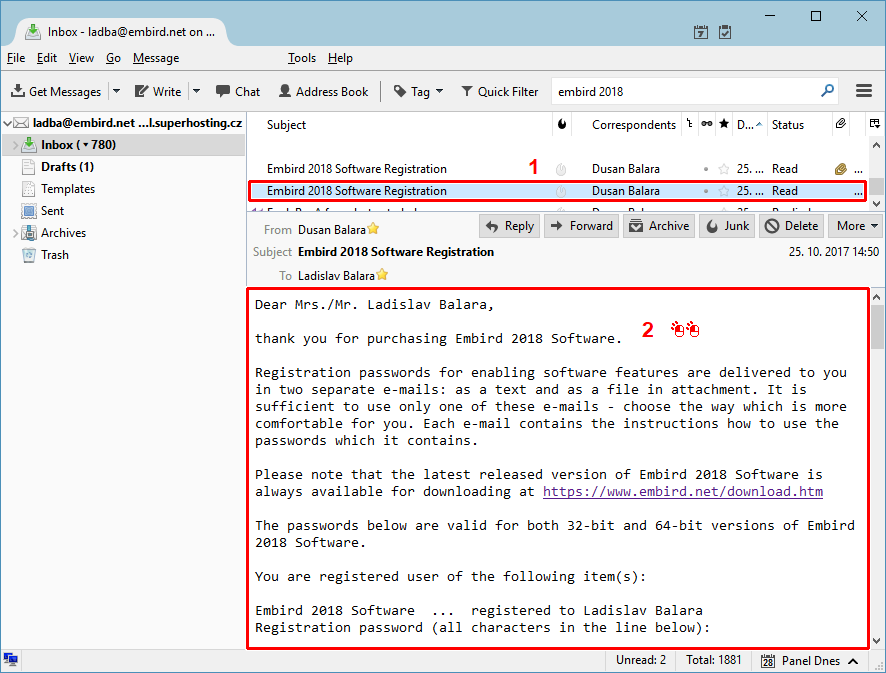 6 - In this e-mail, double click the text with password, i.e. the body of the e-mail (Picture No. 3). Embird will display a message informing you about the recognition of passwords (Picture No. 4). In case you do not obtain this message, please repeat this step - double click again on e-mail with password - until the message appears.
4. Password recognition

7 - Once the password is recognized and inserted into Embird, you will see in the bar at the top of Embird Manager window that Embird is registered (Picture No. 5). You can also check which plug-ins are registered by choosing "Help > Installed Plug- ins" command from main menu.
5. Embird switched to registered mode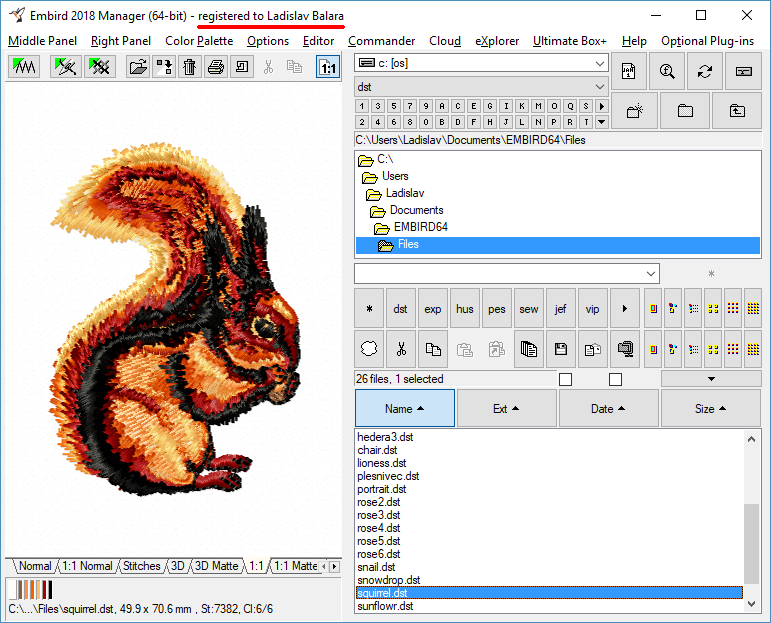 8 - Please back-up your passwords using "Help > Passwords" command from main menu. See more details in Passwords Back- up tutorial.