Export Sew Simulator
This tutorial explains how to export sew simulator file and how to use it. Sew simulator file is an executable file which contains the design stitches and also routines for showing simulation of sewing process. This might be very useful if you want to send the design to customer via Internet and allow to check the sewing and print this design on the customer computer. The customer does not need to have any embroidery software - he/she will just run the executable file, check the design and print the template if required.
Tip: See also tutorials Export Printable Documentation and Export Convertible File.
1 - Run Embird.
2 - Select the design(s) which you want to export in the "Files:" box at the right side of the screen (Picture No. 1). Click the file name to select it. In this example the SQUIRREL.DST file is selected.
1. Select file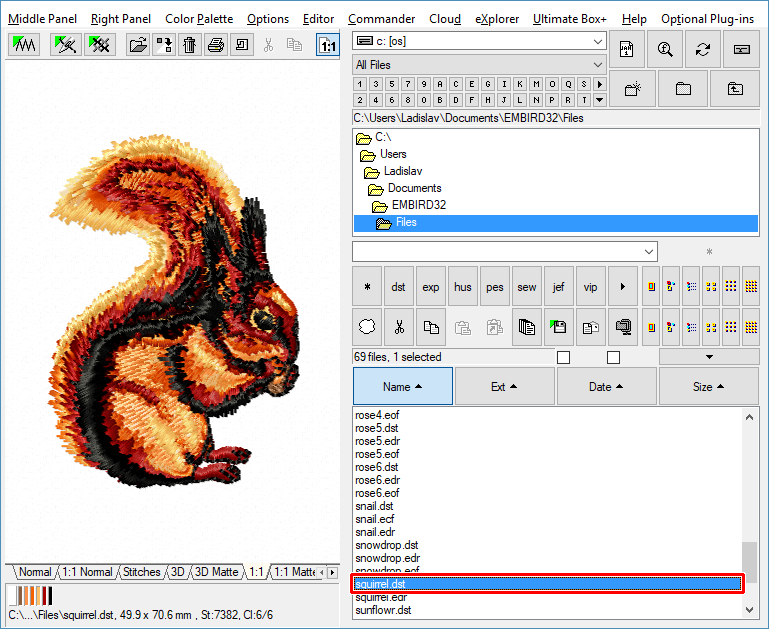 3 - Select menu "Right Panel > Export > Export Sew Simulator" (Picture No. 2).
2. Select "Export Sew Simulator" menu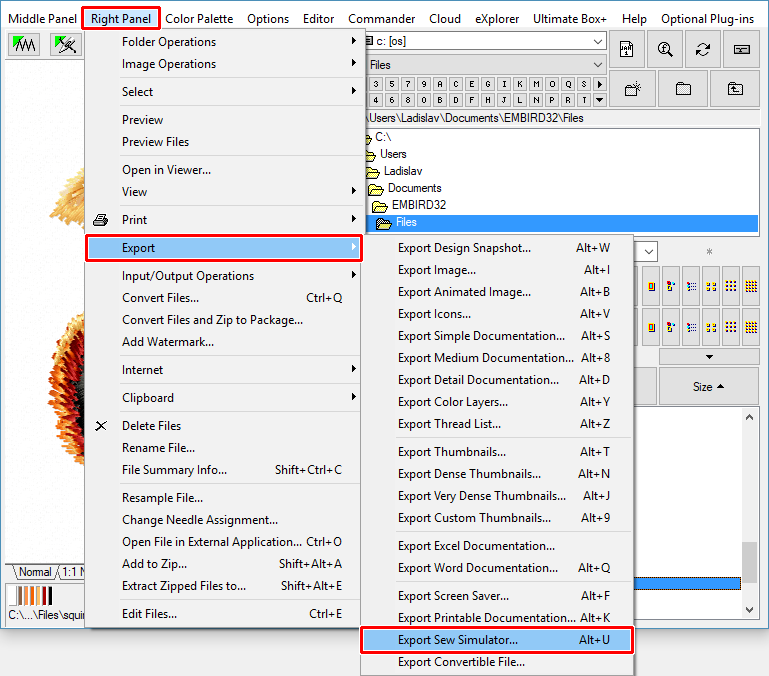 4 - Specify the folder (1) and file name (2) of the exported document (Picture No. 3). Then click "OK" button to continue (3).
5 - The executable file (squirrel.exe in this example) will be created in chosen folder. Now you can send this executable file via Internet to your customer, but first test it on your PC - see the steps below.
Tip: Tip: It is recommended to compress the executable file to .ZIP archive to minimize its size. This will also change the extension of file from .exe to .zip. Some e-mail programs do not allow to send .exe files, so it solves this problem as well. See also tutorial Creating ZIP Archive.
3. Save to .EXE file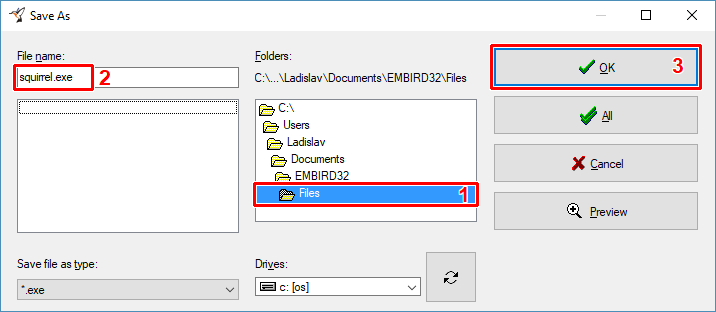 6 - Try to run the exported document - it is executable file "squirrel.exe". It will show simulation of sewing of squirrel.dst design. Find more information about controls in this window in Sew Simulator tutorial (Picture No. 4).
7 - It is possible to print the design template containing also color list - click the button with printer icon (Picture No. 4).
4. Run exported file to test it