Add Watermark
This tutorial explains how to add watermark to an embroidery design.
As it is defined in Wikipedia, digital watermarking is the process of embedding information into a digital signal which may be used to verify its authenticity or the identity of its owners, in the same manner as paper bearing a watermark for visible identification. One application of watermarking is in copyright protection systems, which are intended to prevent or deter unauthorized copying of digital media. Another application is in source tracing. A watermark is embedded into a digital signal at each point of distribution. If a copy of the work is found later, then the watermark may be retrieved from the copy and the source of the distribution is known.
It is possible to add watermark to design in Embird. This watermark text is hidden in design and stored as special sequence of stitches. If the design is copied, then the watermark text also is carried in the copy. However, it should be taken into account that these stitches, as any other stitches, might be removed from design manually by potentional copyright attacker.
1 - Run "Embird", it will start in "Manager" mode.
2 - Select the designs which you want to protect with watermark in the "Files:" box at the right side of the screen (Picture No. 1). To select the designs, please move mouse pointer to the file name of the first design, depress the left mouse button and hold it down while moving the mouse pointer over the file names of the other designs. When the mouse pointer is over the last design, please release the left mouse button.
1. Select design to protect with watermark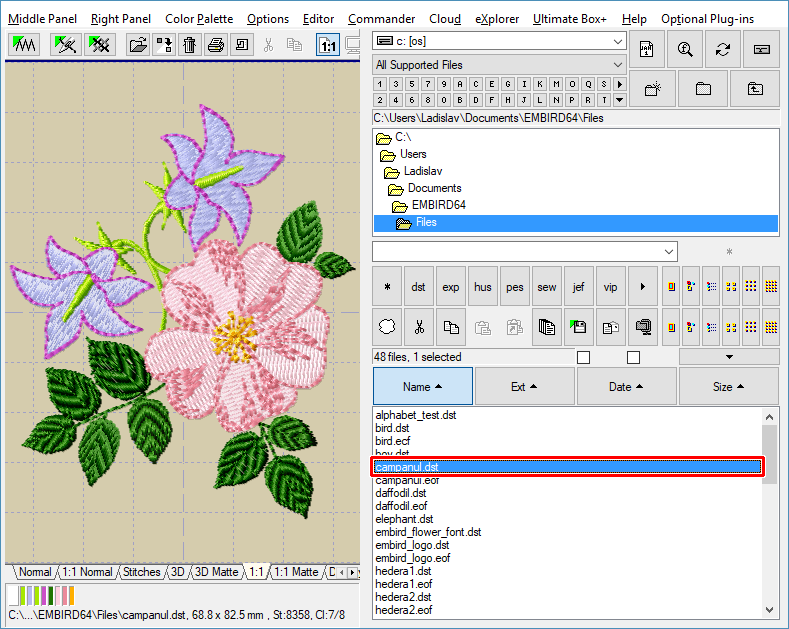 3 - Select "Right Panel > Add Watermark" menu (Picture No. 2).
2. Select "Right Panel > Add Watermark" menu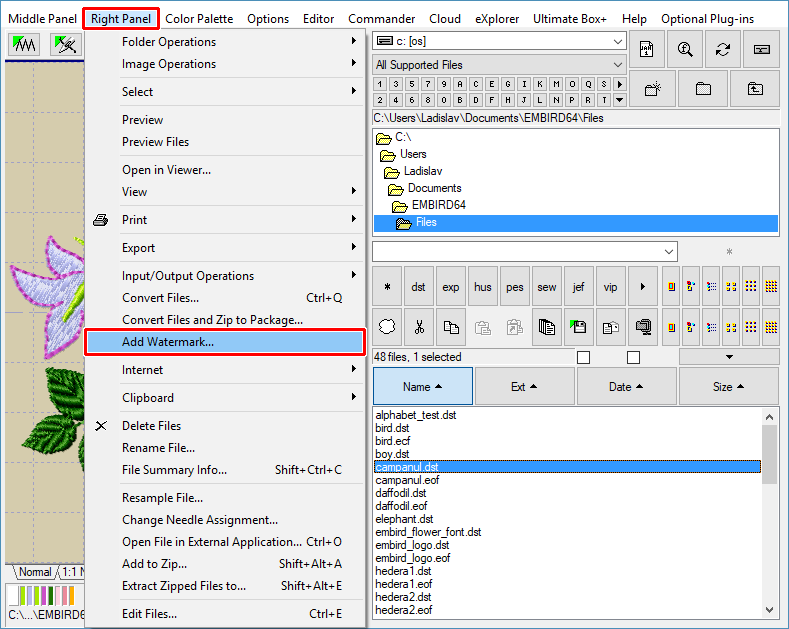 4 - Specify the watermark text while taking into account supported characters (Picture No. 3). Click "OK" button to continue.
3. Enter watermark text

5 - Wait until operation is completed (Picture No. 4).
4. Wait until operation is completed

6 - Double-click the design to view it (Picture No. 5). Check the watermark text shown in yellow hint which appears after several seconds of mouse inactivity.
5. Check the watermark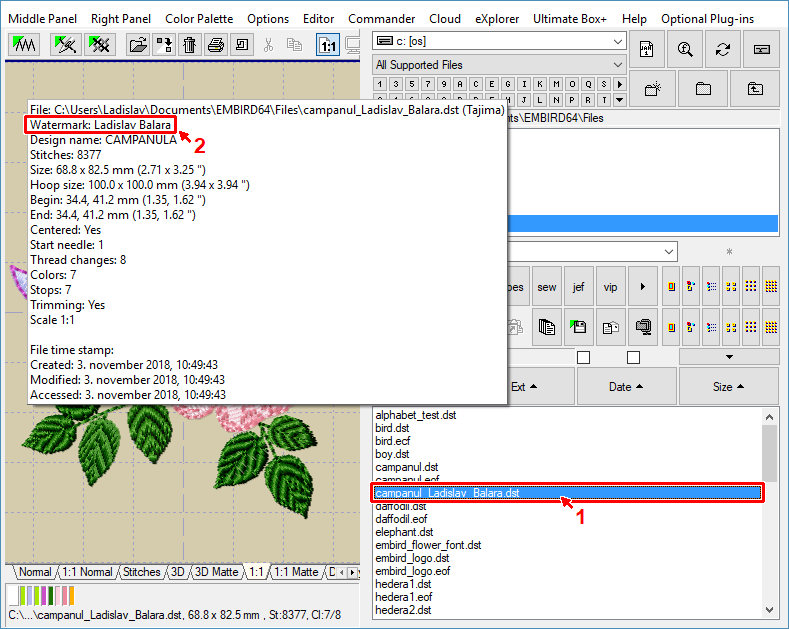 Note: In case it is not possible to hide the watermark stitches below other (cover) stitches, they will be added at the end of design. The "stop" code inserted before them allows to skip them when sewing on embroidery machine.