Embird Indexer for Google Desktop
Embird Embroidery Software Tutorial
Embird Indexer for Google Desktop is Embird Iconizer add-on which integrates with Google Desktop application. Google Desktop is free application developed by Google company (http://www.google.com) and it allows to search your computer as easily as you search the web with Google internet search engine. Starting with Embird 2006 Build 6, Embird Indexer is included in Iconizer plug-in. This means that it works in full mode only if you have registered Iconizer plug-in, otherwise it will work only in Demo mode. Embird Indexer allows you to easily search for your embroidery designs on your hard disk, it supplies important information about the designs to Google Desktop, e.g. stitch count, color count, design size, hoop size, design thumbnail, etc. (see Picture No.5 below)
Note: Before you start using Embird Indexer, you must install Google Desktop application on your PC, which is available at http://www.googledesktop.com.
Hint: It is recommended to move all your designs into the sub-folder of "My Documents" folder in your user profile. Otherwise it might happen that Google Desktop will not index your designs which are stored in some other folder. We recommend to create folder "My Designs" under "My Documents" and keep all embroidery designs in sub-folders of "My Designs" folder. Another way how to force Google Desktop to index some specific folder is to use special utility "Tweak GDS".
Warning: At the time of writing this tutorial, Google Desktop version 5.1.0703.13372-en-pb has a bug, which causes that only designs with lowercase extension are correctly indexed (for example, SQUIRREL.dst is indexed correctly, but SQUIRREL.DST is not). As a temporary workaround for this bug we have prepared simple utility which is capable of lowercasing all files stored in chosen folder and all its sub-folders. You can download this utility by clicking here. After downloading, run this file and choose the folder which contains files with your designs.
To enable Embird Indexer for Google Desktop, please make sure that Google Desktop is already installed on your PC and then follow these steps:
1 - Run Embird, it will start in "Manager" mode
2 - Select "Options > Iconizer Settings" menu (Picture No. 1).
Picture No. 1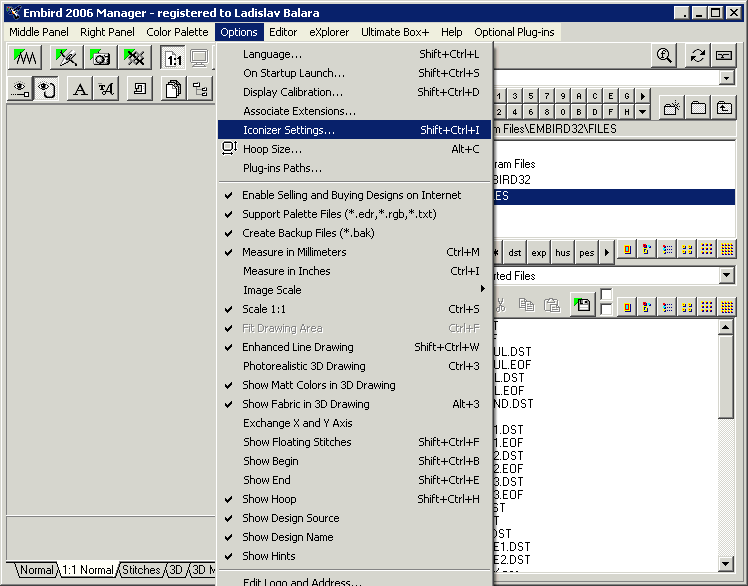 3 - The "Iconizer Settings" dialog box will appear on the screen. Select the extensions which you would like to integrate with Microsoft? Windows? Explorer and with Google Desktop in the upper box. Make sure that the "Enable Indexer for Google Desktop" option is ON (Picture No. 2).Confirm these new settings by clicking "OK" button.
Picture No. 2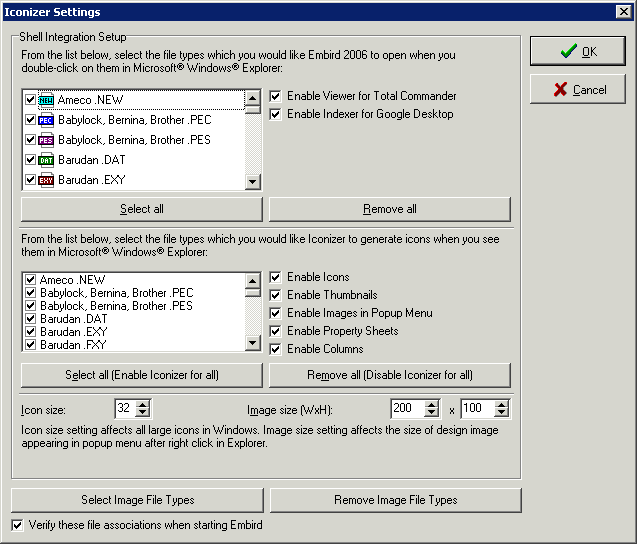 4 - Another dialog box will appear on the screen, click "OK" button to allow the integration of Embird Indexer with Google Desktop (Picture No. 3).
Picture No. 3
5 - Now you should run re-indexing of your files so that Google Desktop indexes newly supported files - embroidery designs. Click right mouse button on the Google Desktop icon in the tray at the right bottom corner of the screen, and select "Indexing > Re-Index" menu (Picture No. 4).
Picture No. 4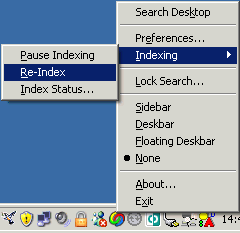 6 - When the re-indexing is finished, you can try to search for some of your designs. In this example we have searched for "ROSE" designs on our hard disk using Google Desktop. Embird Indexer has supplied the design information and the thumbnail to Google Desktop (Picture No. 5).
Picture No. 5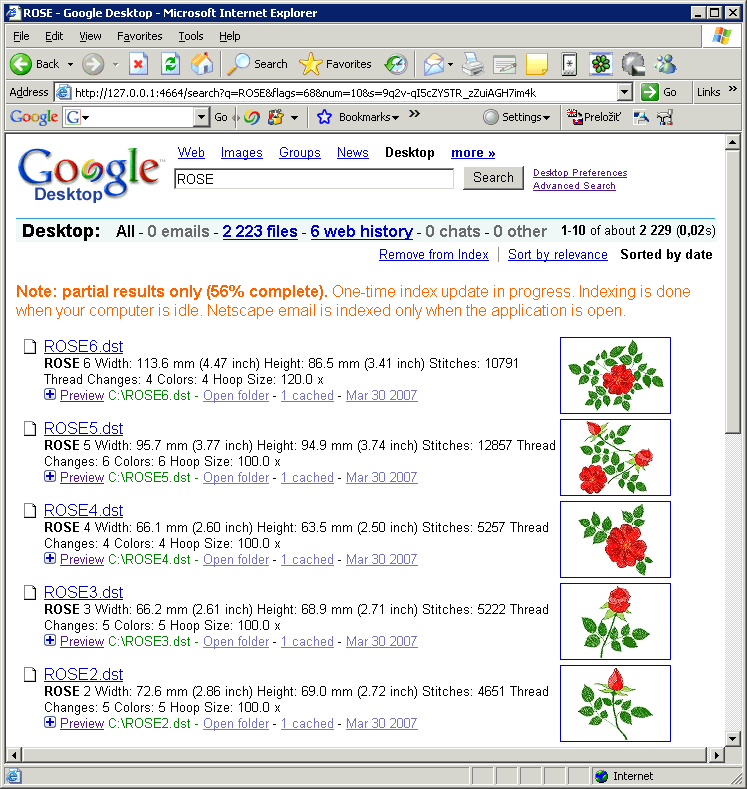 7 - Click the "Preview" link near the "+" button to see more information about the design (Picture No. 6).
Picture No. 6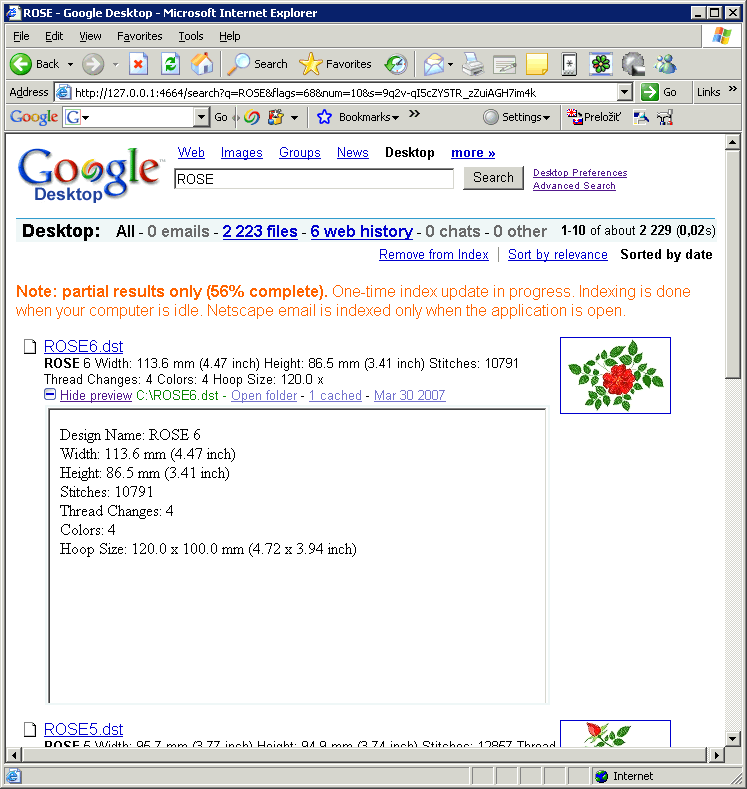 Back to Embird Tutorial Contents
Embird is modular software for computerized machine embroidery digitizing, quilting and customization
Developed by BALARAD, s.r.o. company since 1997