Tutorial Videos
To make the learning of digitizing process faster and easier, Studio includes technology for recording and playback of tutorial videos. Video files may include logo and text and voice comments. Studio installation file includes several tutorial videos made by developers. These videos are available in the start-up window.
User can record her/his own tutorial videos, add text and voice comments and sell these videos or share them with friends. Studio video files have SDM extension.
Studio records only the mouse events (movement and clicks). Therefore, recorded video files are very short if compared to common AVI or other video files and they can be easily transferred via Internet.
Please note that not all actions in Studio can be recorded. For example work with alphabets, Font Engine lettering, 3D preview, sew simulator and keyboard shortcuts and arrow keys cannot be recorded.
Videos Control is at the right side of the button bar.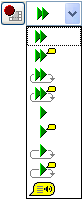 Button with red dot
serves for recording of user's own videos. Studio window is adjusted to predefined size during recording. Do not try to change the window size please and do not move the mouse during the playback. Otherwise, the video playback will stop.
Combo box allows user to select the playback mode and play the videos. When mode is selected, Studio prompts user to select the video file and then it plays the video.
Playback modes are (from top to bottom):
Normal speed mode without comments
Normal speed mode with comments
Normal speed mode without comments. When finished, video starts to play again.
Normal speed mode with comments. When finished, video starts to play again.
5. 6. 7. and 8. modes are like 1. 2. 3. and 4. modes, but with slow playback.
Mode for adding text and voice comments to an existing video. Text comments must be stored each in a separate .txt file. Voice comments must be stored each in a separate .waw file. Comment is displayed (played) during video playback if mouse clicks on a 'trigger control'. Available trigger controls are listed in a left column of the table (column marked with a chequered flag icon). User can assign her/his own text and voice files to any of these controls. Also, user can add a .bmp picture with logo to the video file. Video, text, voice, logo and image or design files that are loaded into Studio during record session are all stored into a single SDM file.
Modes 3. 4. and 7. 8. with endless playback are intended for presentations.
To stop recording of the video, hit the button with blue square that replaces the red dot button during recording.
During the playback, video displays logo of its author and text and voice comments. Logo and comments can be added to video immediately after recording, or later using the mode no.9 in Videos Control. The meaning of controls in the Video Parameters window is as follows:

- Path to your logo.

- Clear comments button.

- Restore default comments button.

- List of controls that display or play comments.

- Paths to voice comments (waw files). Right button click to change.

- Paths to text comments (txt files). If not set otherwise, video displays default comments. Right button click to change.
Troubleshooting
Video playback may be affected or interrupted if you have tablet connected to your computer. Please disconnect the tablet and try to play videos again.