Select Mode (Editor)

Click on this button to enter Select Mode. Then click on Object you want to select. If you want to select several Objects, depress the SHIFT or CTRL key and then click on an Object you want to add to the selection. Click again on an Object if you want to remove it from the selection. The number of selected Objects is displayed at the bottom of Objects Order Bar.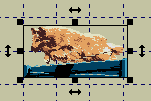 When an Object is selected, a frame is drawn around it. This frame contains several sensitive points that allow resizing and skewing - click on a point and drag the mouse, with the left mouse button depressed. You can also duplicate, mirror, move, align and delete selected Objects, sort colors or reverse stitches, etc. Find the appropriate commands in Edit menu.